Tamil Nadu is endowed with major minerals such as Limestone, Magnesite, Graphite, Bauxite, Iron Ore, Vermiculite, minor minerals such as Granites, Clay, Silica sand, Lignite, fuel minerals such as Petroleum and Natural Gas and atomic minerals such as Monazite, Rutile, Ilmenite. The details of the these minerals are as follows:
I. Major minerals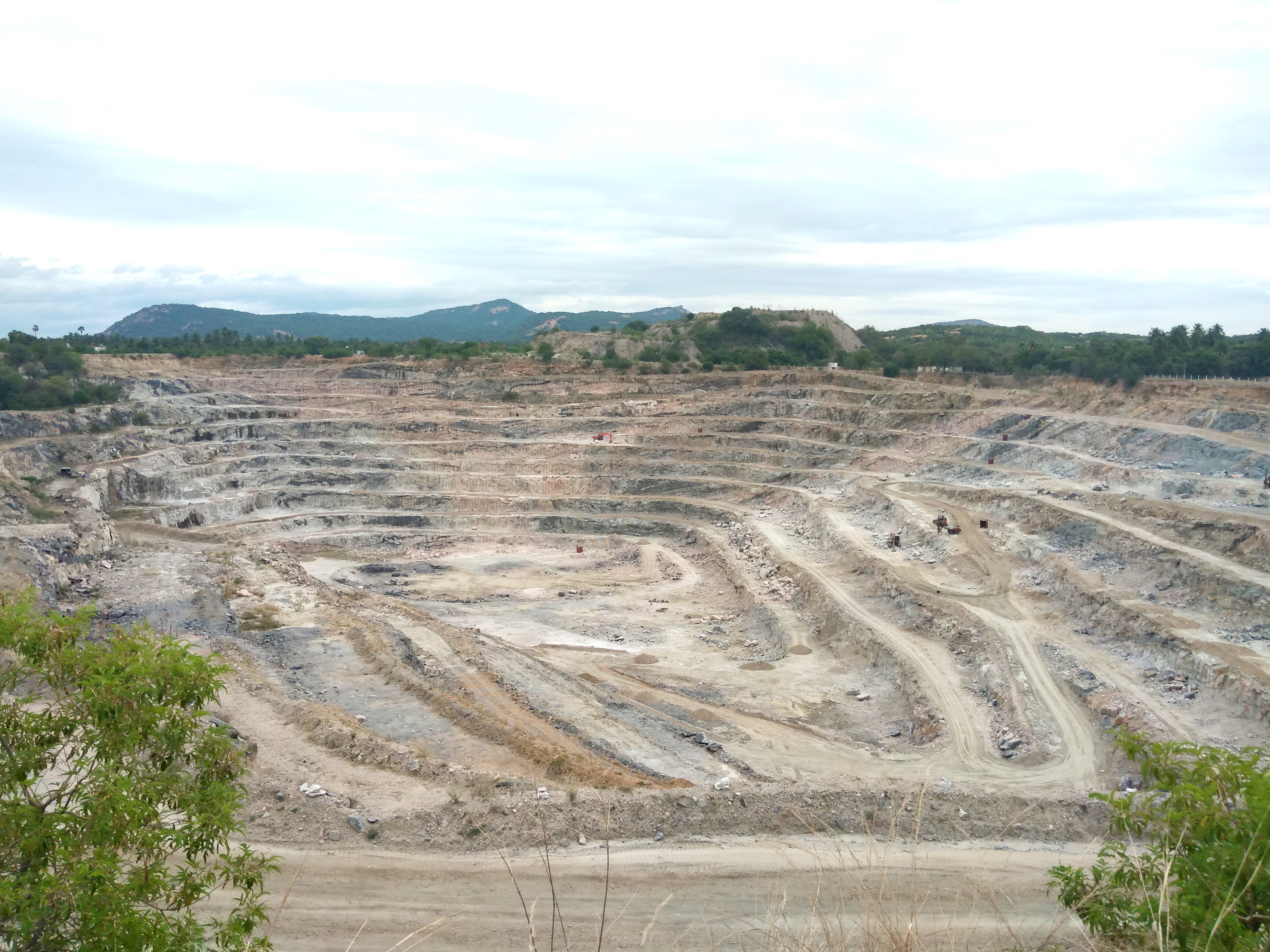 Limestone
It is one of the most important industrial minerals used in the manufacture of lime, cement, chemicals, fertilizers and in metallurgical industries. The Limestone are of two types and are as follows.
Crystalline Limestone – It occurs in parts of Salem, Tiruchirappalli, Karur, Dindigul, Madurai, Virudhunagar, Tirunelveli, Thoothukudi, Coimbatore and Kanniyakumari districts. The total reserve of crystalline Limestone is 200 million tonnes.
Fossiliferous Limestone – It is found in parts of Tiruchirappalli, Ariyalur, Perambalur and Thoothukudi districts. The reserve of fossiliferous limestone is estimated at 670 million tonnes.
The major players are TANCEM, a Government of Tamil Nadu undertaking, Associated Cement Companies, Chettinad Cement Corporation Private Ltd, Dalmia Cement (Bharat) Ltd, The India Cement Ltd, The Ramco Cements Ltd and UltraTech Cement Ltd.
Magnesite
One of the world's best Magnesite deposit occur in the State. The major deposits occur in Chalk Hills of Salem district. The reserves is estimated as 40.5 million tonnes. It is used mainly for refractory purposes and in chemical industries. The major players in this field are Tamil Nadu Magnesite Ltd (TANMAG) and Dalmia Bharat Sugar & Industries Ltd.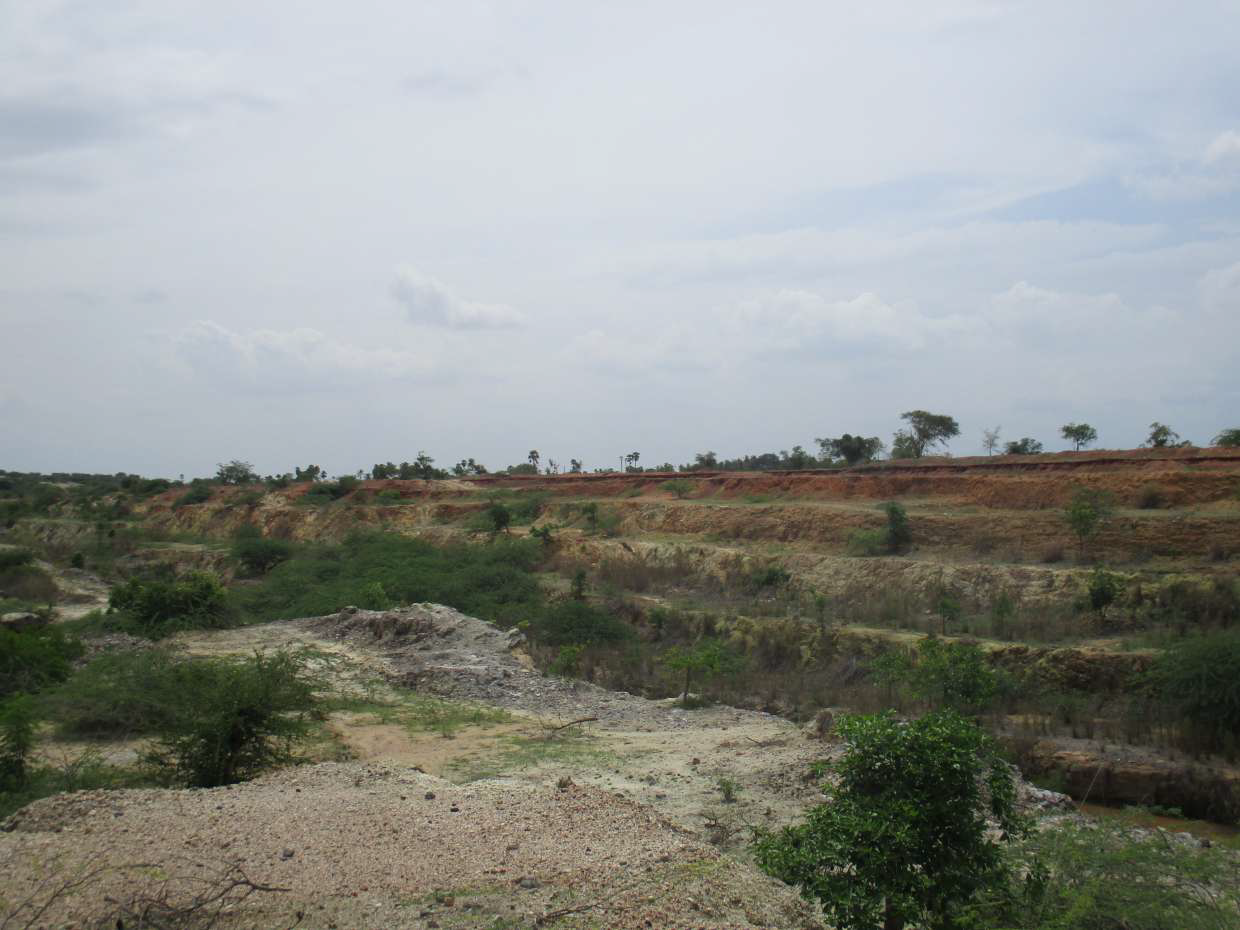 Graphite
Tamil Nadu is endowed with deposits of export worthy flaky Graphites. It is distributed mainly in Sivaganga and Madurai districts. This Graphite on beneficiation can yield a concentrate of more than 80% of fixed Carbon. This is suitable for manufacture of Graphite crucibles which are used in the smelters of the Steel Industry. TAMIN, a State Government undertaking is involved in the mining Graphite.
Bauxite
Bauxite is a mixture of several hydrated Aluminium Oxides with considerable variations in Alumina content.
They occurs as:
Blanket at or near the surface
Bedded deposits
Pocket deposits or irregular masses in Limestone or Dolomite, and
Transported deposits
In the Nilgiri and Palani hills, forming the parts of the Western Ghats hill ranges, discrete lateritic Bauxite cappings are traced at altitudes of 2285-1980m. Lateritic Bauxite cappings are seen at an altitudes of about 1550m in the Shervaroy hills in Salem district and at about 1250m on the Kollimalai hills in Namakkal district. Bauxite is ore of the Aluminium which is used in refractory, chemicals, cement and paint industries and in refining petroleum products.
Lignite
Tamil Nadu is endowed with the biggest deposits of Lignite in India. Ariyalur-Puducherry sub-basin and Nagapattinam sub-basin of the Cauvery Basin are the main repositories of Lignite deposits. The total Lignite reserve is estimated as 34,764 million tonnes. Of which, the Neyveli Lignite field contain 8665.93 million tonnes, Mannargudi Lignite field contain 24,204 million tonnes and Ramanathapuram Lignite field contain 1896 million tonnes. The Neyveli Lignite Corporation is mining Lignite in the lease hold areas. The NLC has led the development of large industrial complex around Neyveli in Cuddalore district with Thermal Power Plants, fertilizer, brequetting and Carbonization Plants.
Iron Ore
Iron ore occurs as Banded Magnetite in Kanjamalai and Godumalai Hills in Salem district. Three bands are noticed in Kanjamalai hills. The Inferred reserves of Iron ore are 50-60 million tonnes in Kanjamalai. The Iron content varies from 33-36 percent. In Godumalai hills, the bands of Iron ore are tightly folded and reserves are about 60-70 million tonnes. In Tiruvannamalai district, Banded Magnetite Quartzite with Haematite is found in Kavuthimalai and Vediappanmalai. The bands of Iron ore occur three detached basins. The inferred reserves are about 60 million tonnes.
Vermiculite
It is a yellowish brown coloured micaceous mineral. They are used as insulators and vermitiles. It occurs in Tirupattur district. TAMIN has been mining Vermiculite in Tirupattur district. It is used in agricultural industry as soil conditioners and an effective growing media.
II. Minor Minerals
Clay
Clay is a general term used for the fine grained, soft, earthy material. Its chief property is plasticity. The utility of any Clay depends on its physical properties such as plasticity, tensile strength, air and fire shrinkage, fusibility, colour , porosity and size of grains and chemical properties. Clays are mixture of fine grained particles consisting of Silica, Aluminum, Calcium, Magnesium, Potassium, Sodium and Oxide of Iron etc, with large amount of water and occasionally with a little Carbon dioxide.
It is classified into Plastic Clay, Refractory or Fire Clay, Kaolin or China Clay, Ball Clay, Brick and Tile Clay, Stoneware Clay and Bentonite.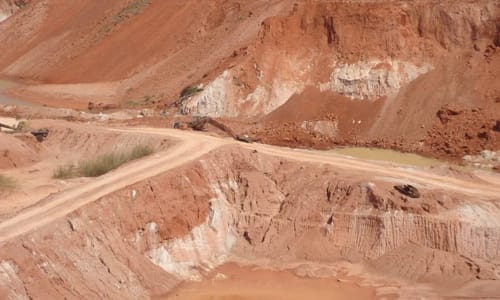 In Tamil Nadu, clays are found in Guntalapalli, Rangampettai, Cheyyar, Panikinar, Thumbai and around Palli villages in Vellore district, Vaipur , Panapakkam, Sunguvarchatram, Edapalayam, Vallam, Eraiyur, Vallakottai, Alagur, Mathur and Kandigai villages of Kanchipuram district, Panrutti and Neyveli in Cuddalore district, Karai, Therani and Uttatur in Perambalur district. Kallal, Nattarasankottai and Sivaganga in Sivaganga district, Vallam in Thanjavur district, Nagercoil, Thovalai and Eraniel in Kanniyakumari district, Tisaianvillai, Appuvilai and Kumarapuram in Tirunelveli district, Managethi, J. Thathanur, Keelanatham villages in Ariyalur district. Clays are used as soft abrasives for polishing soft metals, uniform buttons, belts etc, for buffing ceramic goods.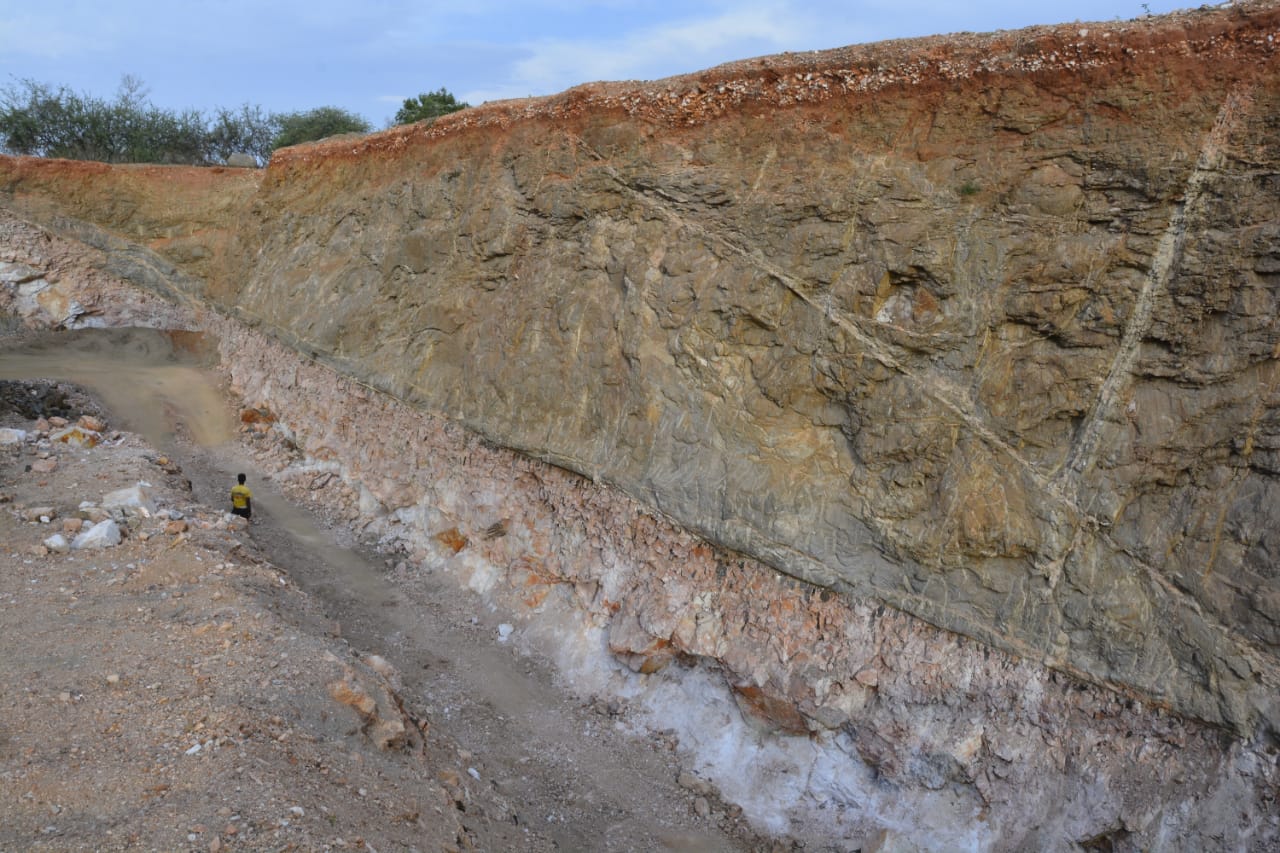 Quartz and Feldspar
These minerals occur in Salem, Karur, Dindigul, Namakkal, Tiruppur, Tiruchirapalli and Dharmapuri districts. Quartz is used in electronics and optical industries. Feldspar is used in ceramic industries. The total reserve of Quartz is estimated as 228.5 million tonnes and Feldspar is estimated as 9 million tonnes.
Gypsum
Gypsum occurs as an evaporate in regular beds or lenses. It may be associated with Anhydrite depending upon the temperature and salinity of the solution. It may originate by the evaporation of sea water in the enclosed basin. It may also form by dolomitisation of Limestone in the sea. In Tamil Nadu, it occurs with clay in Coimbatore, Tiruppur, Ramanathapuram and Perambalur districts.
It is an important mineral, used as a retardant in cement manufacture to control the setting time. In feritilizer industry, high purity grade is utilised in manufacturing Ammonium Sulphate fertilizer. For conditioning alkaline soil, low grade is utilised. In the manufacture of Plaster of Paris and in many other industries like pharmaceuticals, textiles, asbestos products, paints, etc. Gypsum is utilised.
Soapstone
It is the massive granular type of Talc, with impurities like Chlorite, Serpentine, Magnesite, Antigorite, Enstatite, etc. It is characterized by extreme softness, soapy feel, common foliated structure and pearly lustre. It is flexible, but inelastic. It is classified into soft and hard, flaky and fibrous, and is marketed as crude, ground and sawed. It occurs commonly as lenses and pockets in metamorphosed Dolomite, Crystalline Schists or Gneisses and as large bodies in ultrabasic rocks. In Tamil Nadu, it occurs in Salem and Namakkal districts.
It is used for manufacturing of talcum powder ,decorative articles, wash tubes, sinks, table tops, switch boards, hearthstones and furnace linings. It is also used in the tips of gas burners, tailor's chalk, slate pencils, carved ornaments, carrier for fertilizers and in the manufacture of insecticides and detergents.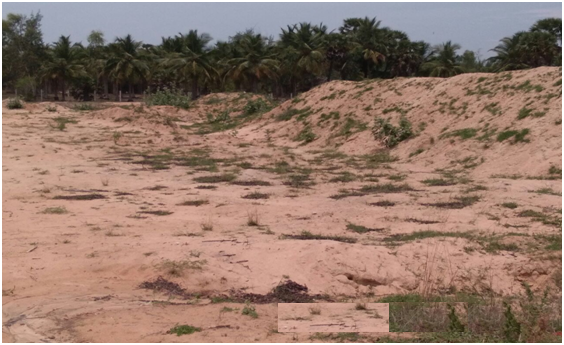 Silica sand
Silica sand is quartz that over time, through the work of water and wind, has been broken down into tiny granules. Generally, it is an assemblage of Silica grains. Silica is the name given to a group of minerals composed solely of Silicon and Oxygen. It is formed by natural weathering of Sandstone and Quartzite or by process of floatation. It occurs in Villupuram, Nagapattinam, Kanchipuram and Cuddalore districts.
The Silica sand deposits in Nagapattinam belongs to the Quaternary (Pleistocene to Recent) period. The area is composed of Silica sand mixed with Clay. The Archean Granites and Gneiss form the basement over which the Cuddalore Sandstone and the Clay Silica sand lies. Vedaranyam area of Nagapattinam District, the Silica sand occurs along the coast as isolated patches. It is derived from the Cuddalore Sandstone by the wave action of Sea, which was then later covered by windblown sand. Good quality of Silica sand occurs as layers at a depth of about 2.5 to 3.0 meters. It is used mainly for the manufacture of Sodium silicate, which in turn is used in the soap and detergent manufacturing industries and also in foundries. Silica sand is also mainly used in glass industry. It is also used in glass fibre, foundry sand, sand blasting, sand paper, filter media in water treatment, ceramics and abrasives.
Granites
Granite quarrying in India was pioneered by Tamil Nadu in the 1970s. The State is endowed with vast resources of Granite of different colours and shades. They are used in building facading, flooring, decorative and ornamental uses and in monuments.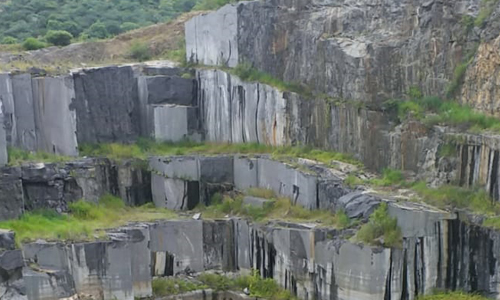 Black Granite
Black Granite is the commercial term of basic rock known geologically as Dolerite. It is used mainly as monuments, markers, slabs and tiles after cutting and polishing. Hence, unlike other major minerals where chemical composition plays an important role in the end use, Black Granite is concerned with the physical characteristics such as colour, grain size, texture, presence or absence of natural impurities, cracks play a vital role in the export market. If the material is more fine grained with uniform texture and colour background, the value increases. Black Granite deposits of export quality are located mainly in the districts of Dharmapuri, Villupuram, Salem, Erode, Vellore, Krishnagiri and Tiruvannamalai. The commercial varieties of Black Granite are Dharmapuri Black, Kunnam Black, Yellikaradu Black, Paithur Black.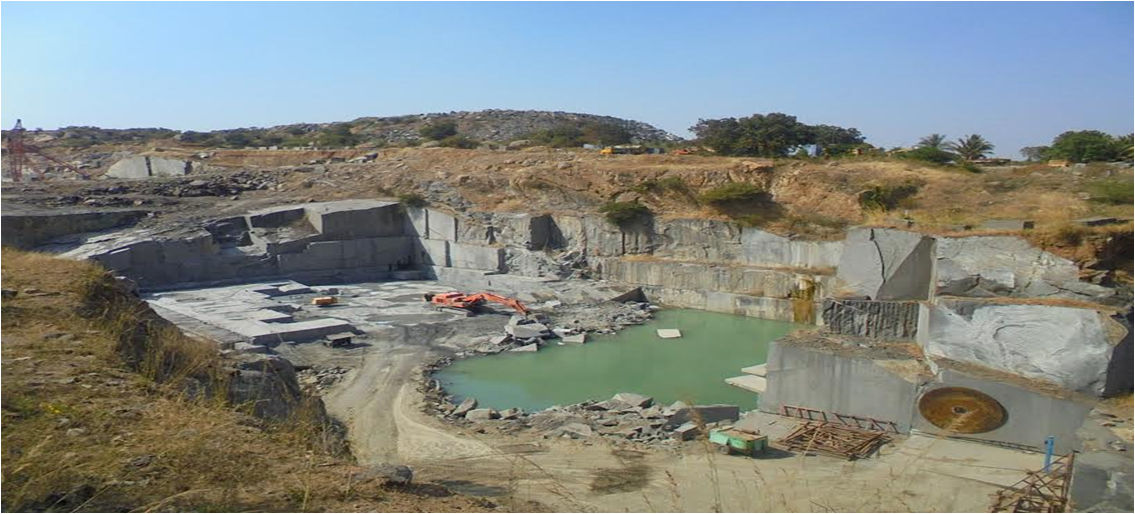 Coloured Granites
Coloured Granites in the shades of pink, grey, green, white of commercial value are found in the districts of Salem, Villupuram, Dharmapuri, Dindigul, Karur, Vellore, Tiruvannamalai, Krishnagiri, Namakkal, Madurai, Pudukkottai, Tirunelveli and Virudhunagar. The commercial varieties of colored granites are Kashmir White, Paradiso, Zebra White, Tiger Skin, Honey Dew, Red Wave and Desert Brown. These Granites are exported to European and Middle East countries and fetches substantial foreign exchange.
III. fuel minerals
Oil and Natural Gas
The explorations for hydrocarbons especially the Oil and Natural Gas deposits in the sedimentary basins of Tamil Nadu by Tvl. ONGC Ltd etc. Since late nineteen fifties has emerged the state as one of the key oil province of India. The Cauvery Basin extending along the East Coast of India spread in Thiruvarur, Nagapattinam, Ramanathapuram, Thanjavur, Cuddalore, Ariyalur and Pudukkottai of the Tamil Nadu and in Pondicherry State and Karaikkal UT has been identified as one of the potential area for exploration and exploitation of oil and Natural Gas in the Country with major oil and gas discoveries, in both onshore and offshore.
Why Cauvery Basin?
Most of the crude oil and natural gas reservoirs occur in geologic basins which are structurally controlled depending upon the nature of the sediment deposition in the area. The Cauvery Basin is a pericratonic rift basin evolved as a result of fragmentation of the Gondwana land during drifting of the India-Sri Lanka landmass system in the late Cretaceous. The basin has suffered marine transgression resulted in the oil formations in the area and the number of criss-cross faults generated due the tectonic disturbances evolved as traps for the oil reserves in the area and hence all the exploration and exploitation activities for Oil and Gas are concentrated in these areas.
Exploration and Exploitation of Crude Oil and Natural Gas
Tvl ONGC Ltd.is granted with 25 Petroleum Mining Leases (PMLs) and 18 Petroleum Exploration Licenses (PELs)in the State spread over 7 districts Viz. Tiruvarur, Nagapattinam, Ramanathapuram, Thanjavur, Cuddalore, Ariyalur and Pudukkottai and carrying out exploration and mining of Oil and Gas since late nineteen fifties.

IV. Atomic Minerals
"Beach Sand Minerals" means economic heavy minerals found in the teri or beach sands, which are classified as Atomic Mineral as per MMDR Amendment Act, 2015 and AMCR 2016.
The Beach Sand Minerals in Tamil Nadu contain Titanium bearing minerals viz. Ilmenite, Rutile, Leucoxene and non Titanium bearing minerals viz. Zircon, Monazite, Garnet and Sillimanite in Thoothukudi, Kanniyakumari, Tirunelveli, Ramanathapuram, Pudukkottai, Tiruchirapalli, Thanjavur, Nagapattinam, Thiruvarur, Cuddalore and Kanchipuram Districts.
Rare Earth elements or Rare Earth metals are a collection of 17 elements namely Scandium, Yttrium and Lanthanides (15 elements in the periodic table with atomic numbers 57 to 71 namely: Lanthanum (La), Cerium (Ce), Praseodymium (Pr), Neodymium (Nd), Promethium (Pm), Samarium (Sm), Europium (Eu), Gadolinium (Gd), Terbium (Tb), Dysprosium (Dy), Holmium (Ho), Erbium (Er), Thulium (Tm), Ytterbium (Yb) and Lutetium (Lu) )
Beach Sand Minerals and Rare Earths are used as performance ingredients in consumer electronics, abrasive, automotive, renewable energy, ceramic, refractories, welding electrodes, telecommunication, aerospace, paints and pigments, gas mantles, petroleum, pharmaceuticals, nuclear power, etc.